Homemade Soup Of The Day
€6.00
served with brown bread (1,5,8,9)
Bleeding Chicken Wings
sml €10 - lrg €14
with your choice of sauce: hot and sticky or BBQ sauce served with celery, sesame seeds and Cashel blue cheese dip. (1,,5,8,9,10)
Beef Cheek Croquettes
€11.00
with chilli jam and rocket parmesan salad (1,5,8,10)
Buttermilk Chicken Tenders
€10.00
served with fresh lettuce and garlic aioli, jalapeño aioli (1,5,8,10)
Tiger Prawns Pil Pil
€11.50
with garlic tomato salsa cooked in olive oil on toasted sourdough bread (1,8,14)
Goats Cheese & Beetroot Salad
€9.00
fresh leaves, red onion, cucumber, cherry tomatoes, fig and candied walnuts (2,8,10)
100% Irish ground premium beef, smoked bacon, tomato, baby gem lettuce, red onion jam, cheddar cheese, brioche bun with fries or side salad. (1,5,8,10)
Round Tower Jameson Burger
€17.00
100% Irish ground premium beef, smoked bacon, tomato, baby gem lettuce, red onion jam, cheddar cheese, brioche bun, onion ring served with fries or side salad. (1,5,8,10)
New York Jameson Burger
€17.00
100% Irish ground premium beef, smoked bacon, tomato, baby gem lettuce, red onion pickle, guacamole, goats cheese, brioche bun with fries or side salad. (1,5,8,10)
Grilled Cajun Spiced Chicken Burger
€16.00
smoked bacon, tomato, baby gem lettuce, cheddar cheese, brioche bun with fries or side salad. (1,5,8,10)
Bleeding Horse Fish & Chips
€17.00
fresh cod cooked in a light beer batter served with pea purée, tartar sauce, lemon and chips or side salad. (1,5,6,10)
Bleeding Horse Loaded Beef Nachos
€16.00
nachos, chilli mince beef, tomato salsa, guacamole, sour cream and cheese sauce. (1,5,8,10)
Traditional Beef Stew
€16.00
100% Irish beef slow cooked in a rich beef stock served with baby potatoes and brown bread. (1,8,9)
Roast Joint Of The Day
€16.00
please ask your server for today's roast and vegetables.
we slow braise our lamb shanks to perfection to ensure the tender meat falls off the bone, served on a bed of creamy mash potato and honey roasted root vegetables, tenderstem broccoli and a rosemary infused jus. (8,9)
BBQ Baby Back Pork Ribs
€16.00
marinated and slow cooked for 8 hours for added flavour and to ensure that the meat falls off the bone served with fries and coleslaw. (1,5,9,10)
Creamy Chicken Bacon Pasta
€15.00
served with creamy garlic sauce, parmesan cheese and garlic bread. (1,5,8)
roast butternut squash, sweet potatoes, red lentils, split peas served with basmati rice and mango chutney. (9)
Add Chicken … €4.00
Grilled Cajun Chicken Salad
€15.00
baby gem lettuce, croutons, cherry tomato, cucumber, red onion and guacamole. (1,8,10)
To Share ~ Bleeding Horse Party Platter
€40.00
with chilli mince beef and cheese sauce. (1,8)
buttermilk chicken tender, sautéed vegetables, garlic aioli and jalapeño aioli. (1,5,8,10)
Mixed Roast Vegetables
€6.00
Garlic Bread (1,5,8)
€4.00
Creamy Mash Potato (8)
€4.00
Homemade Chocolate Brownie
€7.00
served with vanilla ice cream (1,5,8)
Homemade Nutella Cheesecake
€7.00
served with chocolate sauce, fresh whipped cream and strawberry (1,5,8)
Weekend Breakfast
Breakfast is served on Saturday and Sunday only. From 12PM – 2PM.
Full Irish Breakfast
€12.00
two pork sausages, two slices of Irish smoked bacon, white and black pudding, grilled tomato, baked beans, mushrooms, fried free range egg served with toast. (1,5,8,10)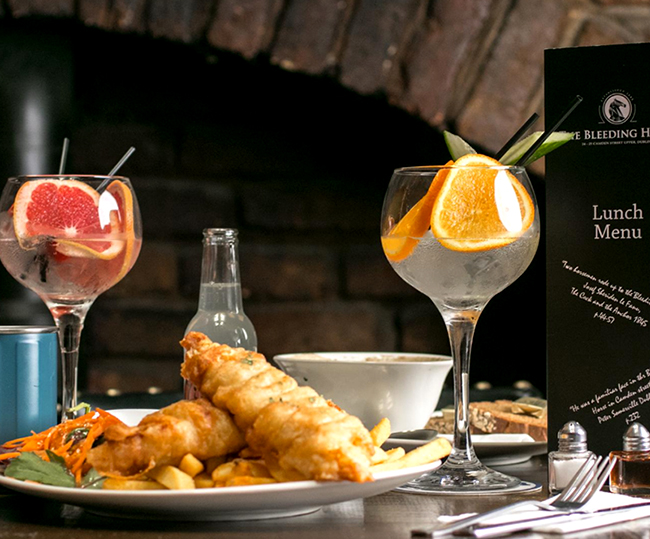 French Sauvignon Blanc
gl €6.90 | 750ml btl €25.90
New Zealand Sauvignon Blanc
gl €7.50 | 750ml btl €28.00
French Chardonnay
gl €6.90 | 750ml btl €25.90
Italian Pinot Grigio
gl €7.50 | 750ml btl €28.00
French Merlot
gl €6.90 | 750ml btl €28.00
Argentinian Malbec
gl €6.90 | 750ml btl €28.00
Chilean Cabernet Sauvignon
gl €6.90 | 750ml btl €28.00
Chilean Cabernet Sauvignon Rose
gl €7.90 | 750ml btl €28.00
Guinness Stout
gl €2.90 | pt €5.50
Ireland's Edge Stout
gl €2.90 | pt €5.50
Heineken Lager
gl €3.20 | pt €6.00
Hop House 13 Lager
gl €3.20 | pt €6.00
Peroni Lager
gl €3.50 | pt €6.60
Five Lamps Lager
gl €3.50 | pt €6.50
Rock Shore Lager
gl €3.20 | pt €6.00
Carlsberg Lager
gl €3.20 | pt €6.00
Rock Shore Light Lager
gl €3.20 | pt €6.00
Coors Light Lager
gl €3.20 | pt €6.00
Birra Moretti
gl €3.20 | pt €6.20
Estrella Galicia
gl €3.20 | pt €6.00
Smithwicks Red Ale
gl €2.90 | pt €5.50
San Miguel
gl €3.20 | pt €6.00
Blue Moon
gl €3.20 | pt €6.00
Hoegaarden
gl €3.20 | pt €6.20
Staropramen
gl €3.20 | pt €6.00
Enjoy our Handpicked Craft Beers available on tap
O'Hara's Irish Pale Ale
gl €3.20 | pt €6.00
Rebel Red Ale
gl €3.20 | pt €6.00
Chieftan Pale Ale
gl €3.20 | pt €6.00
Wicklow Wolf Elevation
gl €3.20 | pt €6.20
Five Lamps Red Ale
gl €3.50 | pt €6.50
Yankee (Rascals) White IPA
gl €3.20 | pt €6.20
Lagunitas India Pale Ale
gl €3.50 | pt €7.00
Happy Days Pale Ale
gl €3.50 | pt €6.20
Bulmers
gl €3.20 | pt €6.00
Rockshore Cider
gl €3.20 | pt €6.20
Orchard Thieves
gl €3.20 | pt €6.20