New Opening Hours:
Monday, Tuesday & Wednesday from 3pm
Thursday, Friday, Saturday & Sunday from 12pm
for booking enquiries please email: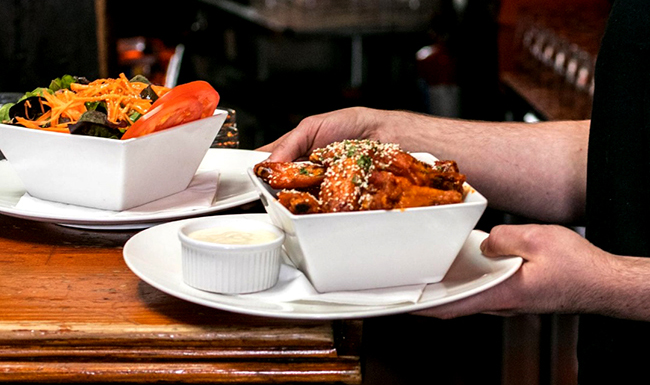 Starters
Homemade Soup Of The Day … €6
served with homemade brown bread (1,8,9)
Bleeding Horse's Hot & Sticky Chicken Wings … small €10 /  large €14
in a hot and spicy sauce tossed in sesame seeds, Cashel blue cheese dip. (1,10,11)
Burrata Toast … €10
toasted sourdough bread, roast cherry tomato relish, sun dried tomato salsa, burrata cheese, mixed leaves (1,5,8,10)
Buttermilk Chicken Tenders … €9
served with mixed leaves and garlic aioli (1,5,8,10)
Mains
Burgers
Jameson Burger … €17
100% Irish ground premium beef, Jameson smoky bacon jam, tomato, fresh leaves, onion relish, Irish cheddar cheese, served on brioche bun with fries or house salad. (1,5,8,10)
Bleeding Horse Hot Fire Chicken Burger … €16
fresh leaves, tomatoes, Irish cheddar cheese, garlic aioli served on a brioche bun with chips or house salad (1,5,8,10)
Bleeding Horse Fish & Chips … €17
fresh haddock cooked in a light beer batter with homemade tartar sauce, mixed leaves, marrowfat peas and gravy. (1,5,8,9)
Steak Sandwich … €17
6oz sirloin steak sandwich served with sautéed onions and mushrooms on ciabatta garlic bread with pepper sauce, onion rings and chips or side salad. (1,5,8)
Thai Green Curry (V) … €14
medium spiced Thai curry with a hint of sweetness, served with green veg, bamboo shoots and boiled basmati rice. (1,5)
Add Chicken … €3
Pasta Of The Day … €16
please ask your server about allergen details
Smoked Chicken Cobb Salad … €15
served with baby gem lettuce, spinach leaves, cherry tomato, cucumber, red onion hard boiled egg, crispy bacon, blue cheese crumble and avocado dressing. (5,8,10)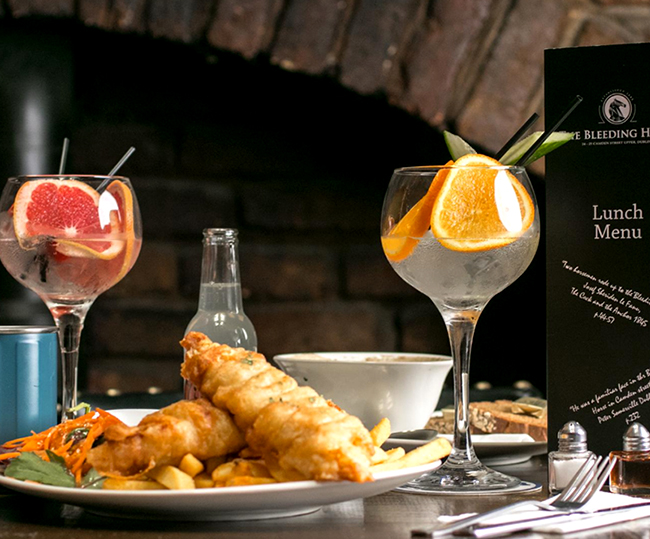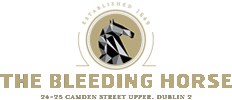 Weekend Breakfast
Full Irish Breakfast … €12
two pork sausages, two Irish smoked bacon, white and black pudding, grilled tomato, baked beans, mushrooms, fried free range egg served with toast. (1,5,8,10)
Add Tea or Coffee … €2
Breakfast is served on Saturday and Sunday only. From 12PM – 2PM.
Dessert
Homemade Chocolate Brownie … €7
served with vanilla ice cream (1,5,8)
Profiteroles … €7
served with chocolate sauce, fresh whipped cream and strawberry (1,5,8)
Sides
Handcut Chips … €4 (1)
Mixed Veg … €4
Homemade Onion Rings … €5 (1)
House Salad … €5 (10)
Garlic Bread … €5 (1,5,8)
Allergen Information
The following is a guide to the allergens contained in our food: 1 = Gluten, 2 = Crustacean, 3 = Eggs, 4 = Fish, 5 = Peanuts, 6 = Soybeans, 7 = Milk/Dairy, 8 = Nuts, 9 = Celery, 10 = Mustard, 11 = Sesame Seed, 12= Sulphur Dioxide, 13 = Lupin, 14 = Molluscs. All our dishes may contain traces of nuts