We would like to thank all our customers for all their support since we have reopened.We welcomed so many new faces along with our lovely regulars.
Our staff have worked extremely hard to adhere to all guidelines so we could make our customers and staff feel they are in a safe environment.
In line with new government restrictions we have to close our doors for 6 weeks. We can't wait to open our doors again. See you soon. Stay Positive & stay safe.
The Bleeding Horse Team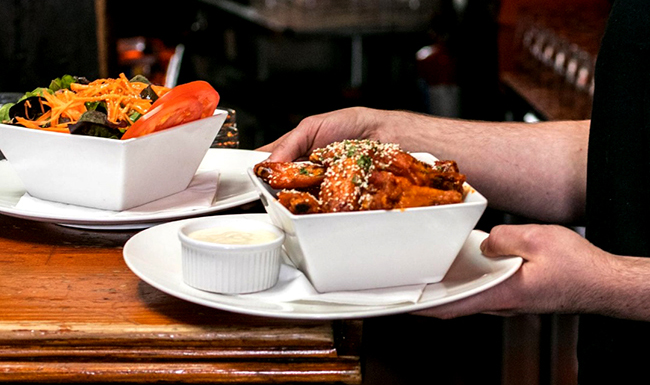 Starters
Homemade Soup Of The Day … €6
served with homemade brown bread (1,8,9)

Bleeding Horse's Hot & Sticky Chicken Wings … small €10 /  large €14

in a hot and spicy sauce tossed in sesame seeds, Cashel blue cheese dip. (1,10,11)
Burrata Toast … €10
toasted sourdough bread, roast cherry tomato relish, sun dried tomato salsa, burrata cheese, mixed leaves (1,5,8,10)
Asian Green Salad … €14

mixed fresh leaves, bean sprouts, bamboo shoots, pickled ginger, mixed pepper, cucumber, red onion with soy and sesame oil dressing (1,7,11)
Add Chicken … €3
Mains
Jameson Burger … €17
100% Irish ground premium beef, smoked bacon, tomato, fresh leaves, onion relish, Irish cheddar cheese, brioche bun served with fries or house salad (1,5,8,10)
Traditional Beef & Guinness Stew … €15
100% Irish beef slow cooked in a rich beef stock with buttered new potato and homemade brown bread. (1,8,9)
Bleeding Horse Fish & Chips … €17
smoked cod and fresh ling cooked in a light beer batter, with homemade tartar sauce, crushed peas. (1,5,6,10)
Creamy Chicken & Bacon Pasta … €14
served with creamy garlic sauce, baby spinach, parmesan cheese and garlic bread. (1,5,8)
Ravioli Ricotta Of Spinach … €14.50
served with roast cherry tomato, baby spinach in a rich tomato sauce and parmesan (1,5)

Smoked Chicken Cobb Salad … €14
served with baby gem lettuce, spinach leaves, cherry tomato, cucumber, red onion, hard cooked egg, crisp bacon, blue cheese crumbled and avocado dressing (1,5,8)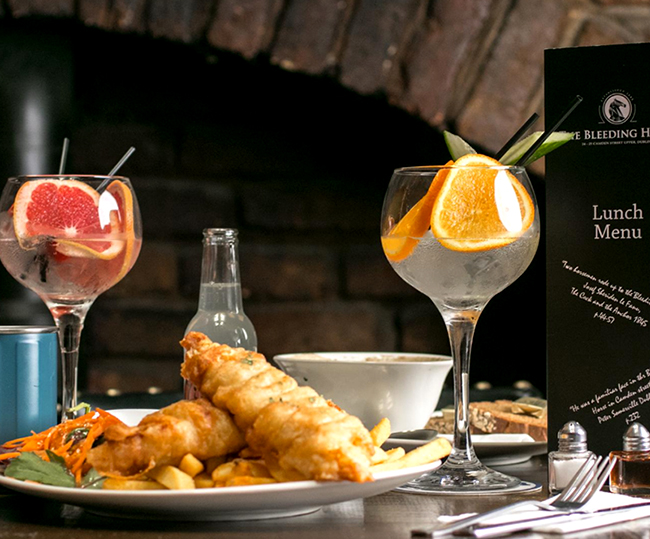 Sides
House Fries … €4 (1)
Cheesy Chips With Parmesan… €6 (1,8)
Homemade Onion Rings… €5 (1)
House Salad … €5 (10)
Weekend Breakfast
Full Irish Breakfast … €12
two pork sausages, two Irish smoked bacon, white and black pudding, grilled tomato, baked beans, mushrooms, fried free range egg served with toast (1,5,8,10)
Add tea or coffee … €2
Breakfast is served on Saturday and Sunday only from 10.30am to 12.30pm
Desserts
Please ask your server about today's desserts
Allergen Information
The following is a guide to the allergens contained in our food: 1 = Gluten, 2 = Crustacean, 3 = Eggs, 4 = Fish, 5 = Peanuts, 6 = Soybeans, 7 = Milk/Dairy, 8 = Nuts, 9 = Celery, 10 = Mustard, 11 = Sesame Seed, 12= Sulphur Dioxide, 13 = Lupin, 14 = Molluscs. All our dishes may contain traces of nuts