We would like to thank all our customers for their support since we reopened in December. We welcomed so many new faces along with our lovely regulars.
Our staff have worked extremely hard to adhere to all guidelines so we could make our customers and staff feel they are in a safe environment.
In line with new government restrictions we have to close our doors again. We will be closed from Christmas Eve.
We can't wait to open our doors again.
Wishing you all a Happy Christmas.
See you soon.
Stay Positive & stay safe.
The Bleeding Horse Team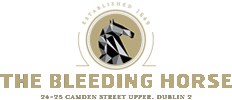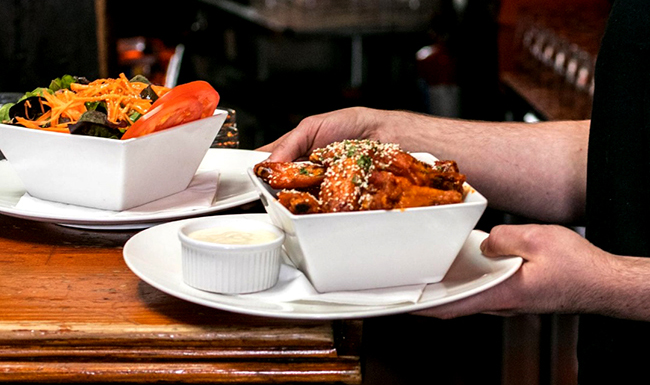 Starters
Homemade Soup Of The Day … €6
served with homemade brown bread (1,8,9)

Buttermilk Chicken Tenders … €9
served with mixed leaves and garlic aioli (1,5,8,10)
Golden Fried Calamari Fritti … €11
lightly flour dusted, flash fried crispy squid served with mixed leaves and garlic aioli(1,5,6,8,10)
Bleeding Horse's Hot & Sticky Chicken Wings … small €10 /  large €14

in a hot and spicy sauce tossed in sesame seeds, Cashel blue cheese dip. (1,10,11)
Burrata Toast … €10
toasted sourdough bread, roast cherry tomato relish, sun dried tomato salsa, burrata cheese, mixed leaves (1,5,8,10)
Bleeding Asian Green Salad … €9

mixed fresh leaves, bean sprouts, bamboo shoots, pickled ginger, mixed pepper, cucumber, red onion with soy and sesame oil dressing (1,7,11)

Mains
Burgers
Beef Burger … €17
100% Irish ground premium beef, smoked bacon, tomato, fresh leaves, onion relish, Irish cheddar cheese, brioche bun served with fries or house salad (1,5,8,10)
Bleeding Horse's Hot Fire Chicken Burger … €16
fresh leaves, tomatoes, Irish cheddar cheese, garlic aioli served on a brioche bun with chips or house salad (1,5,8,10)
Vegetarian
Ravioli Ricotta Of Spinach … €14.50
served with red cherry tomato, baby spinach in a rich tomato sauce and Parmesan (1,5)
Vegan
Vegan Moussaka (v) … €14
roasted eggplant, zucchini with black beans, brown lentils, potatoes cooked in a rich Roma tomato sauce and basil pesto
Thai Green Curry (v) … €14
this medium spiced Thai curry with a hint of sweetness flavour comes with green vegetables, bamboo shoots served with basmati rice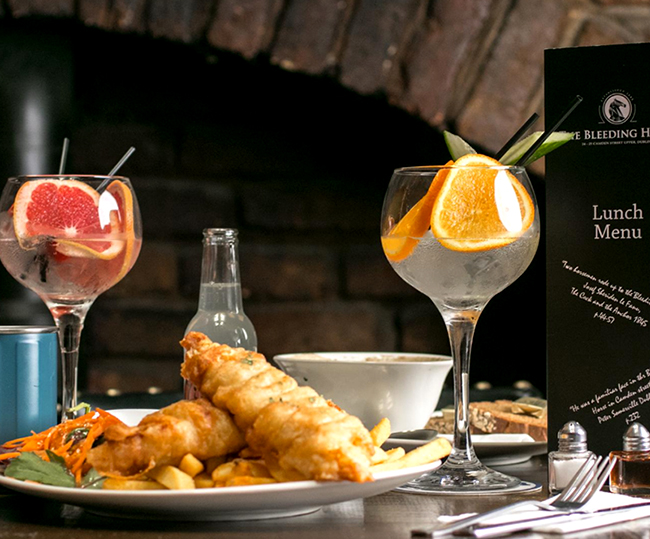 Classics
Roast Of The Day … €14.50
served with creamy mash potato, roast root vegetables, brussel sprouts, stuffing, cabbage, southwest roast baby potatoes and gravy (1,5,8,9)
Bleeding Horse Fish & Chips … €17
fresh haddock cooked in a light beer batter with homemade tartar sauce and mixed leaves, marrowfat peas and gravy (1,5,8,9)
Traditional Beef & Guinness Stew … €15
100% Irish beef slow cooked in a rich beef stock with buttered new potato and homemade brown bread (1,8,9)
Pork Belly … €16
served with creamy mash potato, roast root vegetables, cabbage and cider jus (8,9)

Creamy Chicken & Bacon Pasta … €14
served with creamy garlic sauce, baby spinach, Parmesan cheese and garlic bread (1,5,8)

Sides
Handcut Chips … €4 (1)
House Salad … €5 (10)
Southwest Roast Baby Potatoes … €5 (1)
Creamy Mash Potato … €4 (3,5,8)
Roast Root Vegetables with Herbs … €4 (1,5,8)
Spice Bag … €8

buttermilk chicken tenders, fries, fried  vegetables, garlic aioli and jalapeño aioli (1,5,8,10)
Allergen Information
The following is a guide to the allergens contained in our food: 1 = Gluten, 2 = Crustacean, 3 = Eggs, 4 = Fish, 5 = Peanuts, 6 = Soybeans, 7 = Milk/Dairy, 8 = Nuts, 9 = Celery, 10 = Mustard, 11 = Sesame Seed, 12= Sulphur Dioxide, 13 = Lupin, 14 = Molluscs. All our dishes may contain traces of nuts